A name 100 years
In the making. Tomahawk Community Bank
and
Merrill Community Bank
are now
Crossbridge Community Bank.
Serving you better is our purpose, and we've evolved our brand to do just that. We've updated the look, but not the people. Another thing we've kept the same is our commitment to supporting our community. As we move into our next 100 years, we will keep you as our primary purpose. And, as always, we keep our Purpose First.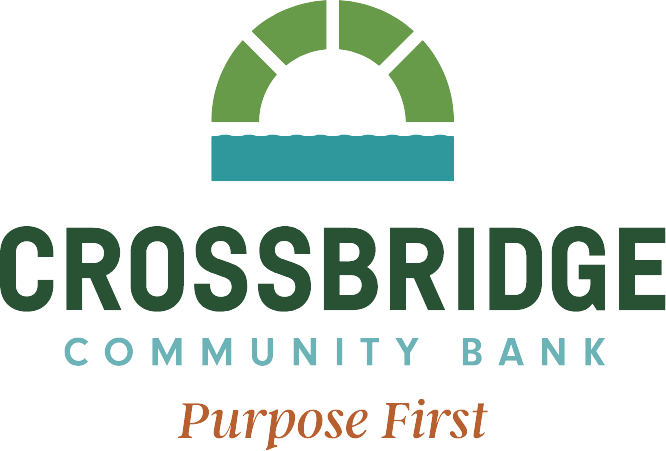 FAQS
Q: Why the name change?
A: We have been operating under two brands since our merger five years ago. As we've fully integrated our teams and cultures, we wanted a new name that would represent our coming together as a unified organization with a single purpose—a name that would embody our mission and speak to our commitment to help friends, neighbors, and communities get where they want to go. We are still a true community bank and always will be.
---
Q: How will the changes affect me?
A: You won't be affected by the changes. We're still the same bank, same people. None of that is changing. Your account numbers will stay the same. Our products, services, and locations will be the same. Only our name and look will be different.
---
Q: Will I get new checks?
A: Use your existing checks until you run out, or you can order new checks. It's completely up to you. When you place your next order, you'll see Crossbridge Community Bank on your checks.
---
Q: What about my debit card?
A: You can expect a new debit card to arrive in the mail within the next several months. Your new card will have improved features like contactless payment. Until then, however, continue to use your existing card.
---
Q: Will Online Banking change?
A: No. It's the same system you've always used. Log in as usual with your same username and password.
---
Q: Is there a new website?
A: Yes. Visit us at our new website address, which is www.Crossbridge.bank. But don't worry if you forget the new website address, you will be redirected from the old one.
---
Q: Have the locations or staff changed?
A: No. You will still see the same familiar faces in the same locations ready to serve you and help you reach your goals.
---
Q: What isn't changing?
A: That we exist to serve you. We are a mutual community bank, meaning we are owned by our customers. We stay true to our purpose as a local organization, which is to make a positive and lasting impact on the lives of our customers and the future of our community through the unique structure and culture of mutual banking. For more than a century, our bank has been a part of the fabric of our community. And we're ready for the next 100 years—as always, keeping you as our primary purpose.