As part of our commitment to your success, we created the Business Showcase. Located in the Tomahawk location of Crossbridge Community Bank, the Business Showcase is available to spotlight YOUR business.
Nimmer Swimmer Musky Lures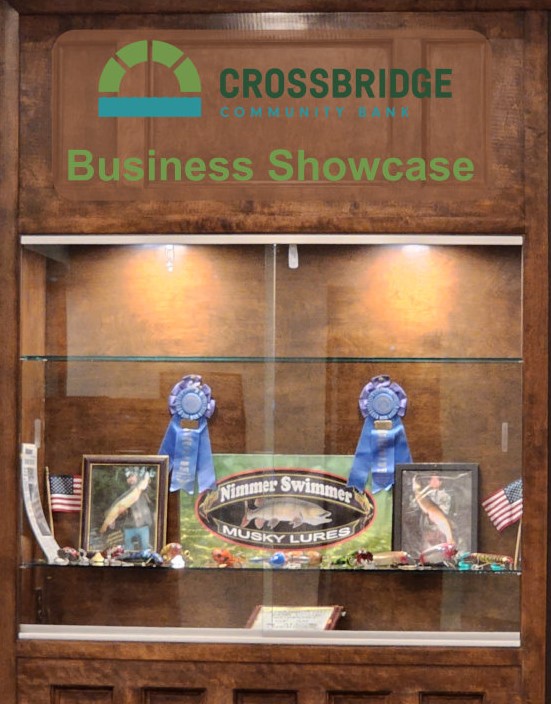 Greg Nimmer hand carves and hand paints each lure he makes.  Each lure is a one of a kind.  Well known in the musky world due to the success of the personal experiences and muskies caught on his baits!  The wood used is Basswood and still made with pride the way they used to be! 
Location:  13 Pine Ridge Lane, Tomahawk, WI  54487
Owner: Greg Nimmer
Contact Person: Carol Nimmer
Years in Business: 23 years
Phone: 715-612-0607
Fax:  
Business Hours:  9AM - 5PM
Social Media: Facebook - Greg Nimmer or Nimmer Swimmer Musky Lures
             
Do you have a special promotion coming up? Has your business been recognized for a special product or service you provide? We want to help you "toot your own horn". Whether it is a week or month; we want to help you get the word out about what Tomahawk's and Merrill's great businesses have to offer.
Crossbridge Community Bank appreciate your business. We are grateful to be a part of this wonderful community and we strive to do whatever we can to help you and your business prosper. The Business Showcase is a great chance to feature your business. Feel free to use the Business Showcase as a "no cost" way for you to advertise your business.